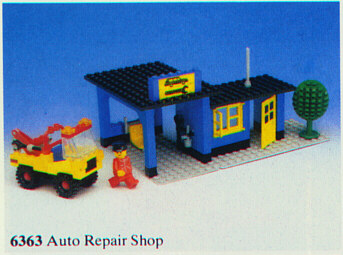 If you've followed along with our town you've already gotten a pretty good look at our upsized Repair Shop (
recently seen ON FIRE!
) I'm still working on a couple interior details (and lighting issues) before doing a video of the shop as it now stands, but I wanted to discuss some of the story and design ideas behind it.
I received my first set 6363 when I was probably in about 6th grade... which was about 1985? I had good friends who lived upstairs from our apartment on Kreuzberg Kaserne in Zweibruecken, Germany (my father was a career US Army officer). These two brothers were my early Lego colleagues.
My first set was the Police Station. I don't want to repeat myself, so you can listen to that story here:
Lego sets started making regular appearances in my Christmas and birthday gifts after that, but REALLY accelerated during our time in Zweibruecken because the two brothers I lived below were big town Lego guys too. Pretty much EVERY excuse for giving each other Lego sets meant that all three of us saw a LOT of new Lego-- and the sets in those years (about 1983-1985) were really great Classic sets.
The apartments had radiators for heat and the stone (?) windowsills above the radiators were about 1.5 Lego road plates deep and right at chest height, so playing with them was really immersive-- you had a minifig's perspective! This also meant that if you wanted to make a town off the floor, which was necessary because our bedrooms themselves were not big, you had to make a long straight town only one road plate deep. Most building sets back then came on half-sized plates and, fortunately, they could still fit on the windowsill.
Now the major downside to this windowsill arrangement was that you pretty much had to choose whether you wanted access to the inside of a building or not. If you didn't, you could have it against the windows and see the front of it. But if you wanted access to the inside, you had to face it away from you. Also, sets like the police station and fire station were relegated to the end of the town's long street or awkwardly placed so that EVERYONE drove through it. As I recall, I had house set 6374 on end of town and the fire station on the other. The police station was made into a border crossing/customs-style checkpoint, which was familiar territory for us back in those pre-European Union days.
Anyway-- so the upsides were that you had this great perspective on the town because it was so close to eye level, and we were also making-- without realizing it-- modular towns. Since everyone's town was just one road plate deep, we would load them up in laundry baskets (with all the other desired vehicles and such) and carry them to each other's apartments to play, mixing all our stuff together in new combinations. It was really cool.
Well, the Repair Shop WAS A MAJOR PROBLEM. Sure, it came with two of those half-plates, but one was turned THE WRONG WAY so the garage part stuck out way far behind it. It didn't fit on the windowsill! And if you turned the plate parallel so the plates fit, you wound up moving the front of the repair shop so far forward it was right on the edge of the road.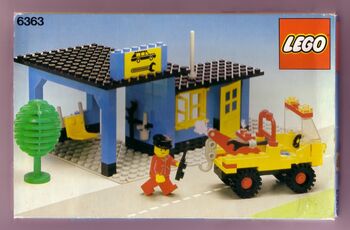 I honestly don't remember where/how I placed the repair shop to work in this 1.5 road plate deep windowsill world, but I do know that as soon as I had a floor-based town (in Belgium in 1985-87ish), I acquired CURVED road plates which fit the shop easily on their deeper sides. I think I had to build it backward a couple times to accommodate the town's layout, but the shop went on curved plates and pretty much STAYED on curved plates ever since.
Sometime later, in Stuttgart (if I remember correctly), the AAFES Post Exchange announced that they would no longer be carrying toys because, the thinking presumably was, German toy stores were not that hard to get to and happened to be carrying most of the same stuff anyway. Nowadays that announcement would have me pouncing on the marked down inventory but back then it didn't occur to me. Luckily, it DID occur to my father!
He came home with all the Lego he could find-- and there wasn't much left! He scored a second hospital set (6364) and a second repair shop set and I think possibly a couple smaller things? I forget. But for the purposes of this blog post, the second repair shop is the most relevant.
I quickly set about trying to combine and expand the repair shop and to modify the second tow truck into something else (I didn't need yet ANOTHER tow truck because I also had on from the gas station set and my blue Exxon one too). These efforts were pretty "meh" until the sets were rediscovered and rebuilt with my son Tyler. We knew we could do better. So we did.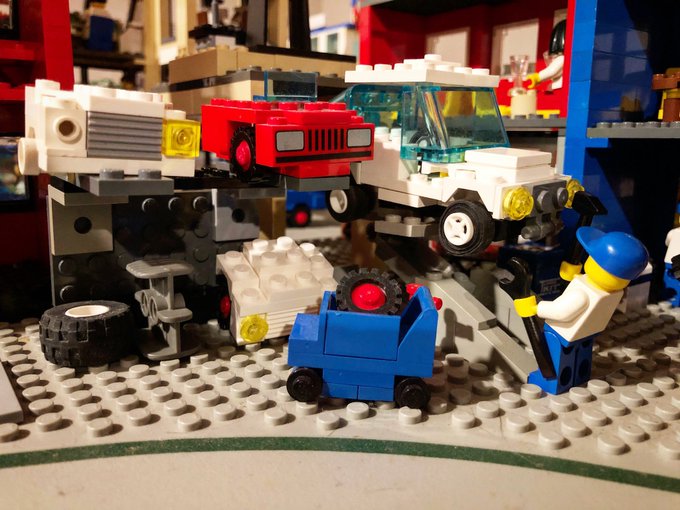 Partly inspired by our trips to the local pick-a-part salvage yard, we made sure the new shop would have room for some cars being torn apart for parts. Lego never made a junk yard set, but it stands to reason that our "island town" would need to save anything useful when cars were retired (which you can see pictured above). We also wanted to limit the footprint of the garage because of our space constraints in town, which meant we needed to build UP. Fortunately, the color scheme of the repair shop sets and their rather generic windows made that easy to obtain matching parts.
You'll see more about what we came up with and why in the follow-up post after I make the video.
The trucks were also refined over time and while I haven't done a full explanation of where they all went and what became of them, this video does show you where the original yellow tow truck of my original set went: